Amplifier Interface for Icoms
An interface fits Icom 720, 730, 740, 745, 751
by Bob W2ENY
This cable is used for connecting any non-Icom external amplifier to the older Icoms 720, 730, 740, 745, 751, 751A.
There is no internal relay in these rigs and this cable will only support a Negative going 24 volts DC at 1 amp maximum.
If your amp draws more than that, you will need this cable: http://www.w2eny.com/icom_24_relay/

It simply plugs into the accessory rear jack (rectangular type) on the radio. Over four feet of shielded twisted pair cable and an RCA/Phono type plug fits to your amplifier. Amp relay keying AND ALC are supported in this package.
This package is compact and streamline, all components located inside the connector. Unlike other solutions, there is no klunky external box and no need to apply other external power.
If you have an older ICOM radio and a newer amp, this is what you need!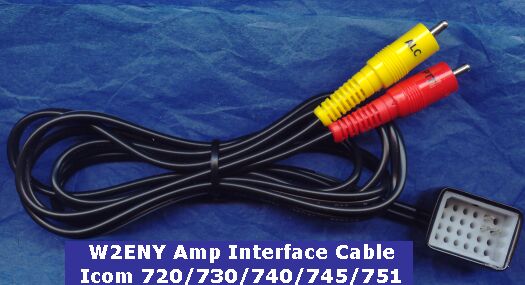 $30 Complete
Includes shipping by USPS First Class Mail
Send check (US Only) or money order in US$ to:
Robert Langston
286 Hudson Street
Cornwall-on-Hudson, N.Y. 12520
U.S.A.