W2ENY HiFi MIC ELEMENT
My custom design modernizes your old Astatic D-104
I've been experimenting with MANY headsets over the last years, I had previously used a Heil headset til now. This element far exceeds mic specs for optimum use with todays radio technology.
I designed this application for a direct solder in replacement that brings Hi-Fi audio and new life to my old amplified D-104 (must have amplifier and 9v battery in the T-UG8 or T-UG9 stand). Upgrade your old classic and get good audio reports!!!
It's a 10 minute job to replace and it works great!! Features great sound with full range audio, I've been getting nothing but excellent 'ON AIR' audio reports ("Sounds just like you, Bob!").
50 Hz - 16 kHz wide range FLAT Response - Natural Sound
Finally, a way to upgrade from that shrill, top end sound offered by similar crystal replacements!
This auction is only for the "W2ENY HIFI D-104 Replacement" kit with short tinned leads, resistor jumper and new black felt shown in the pic - all else in the pic is shown for illustration only.
Electret Mic element, resistor/jumper, black felt and instructions are included.
This replacement is ONLY for D-104s having the TUG8 or TUG9 stand with amplifier and battery.
ICOM users - If you have the 8 pin round mic connector, this whole thing can be powered from your radio by adding another jumper in the mic stand - no more 9v battery.
What does it sound like?
CLICK HERE for before
CLICK HERE for after
$20 complete with instructions
Send a check or money order to get free shipping
Robert Langston
286 Hudson Street
Cornwall-on-Hudson, N.Y. 12520
U.S.A.

This kit is for these models:
TUG8 Base (and Golden Eagle)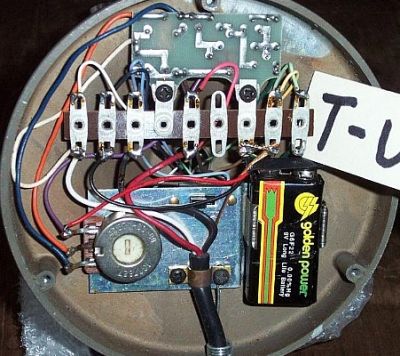 TUG9 Base