PREMIUM Two Ear HEADSET
has Noise Canceling Boom Mic
by Bob W2ENY
More substantial construction than my others. Still features great sound with full range audio, and I've been getting nothing but excellent 'ON AIR' audio reports ("Sounds just like you, Bob!"). It's such a great performer (and such a great deal) that I decided to make it available to the ham community.

20Hz - 20kHz headphones, 100Hz - 16kHz mic audio, -59dBV/uBar sensitivity, high impedance noise canceling mic element and 8 foot cable.
The noise canceling feature is simply amazing... I can have the scanner or AM radio on in the background and none of it goes out over the air!!!
Finally, a way to get rid of that "clothes-pin-on-your-nose" contest sound at a fraction of the cost of inferior "name brand" units!
The custom package is complete and ready to go, I include the right connectors for your radio.
Here's what you get
Two earpiece headphone boom mic set shown below
Mic adapter to 1/8" mini jacks
for mic input and your PTT or foot switch
1/8" stereo to 1/4" adapter for headphones
Accessories Available
PTT Hand Switch $18 - Foot Switch $25
Click the image above to BUY NOW
Package shown below - for round or modular connectors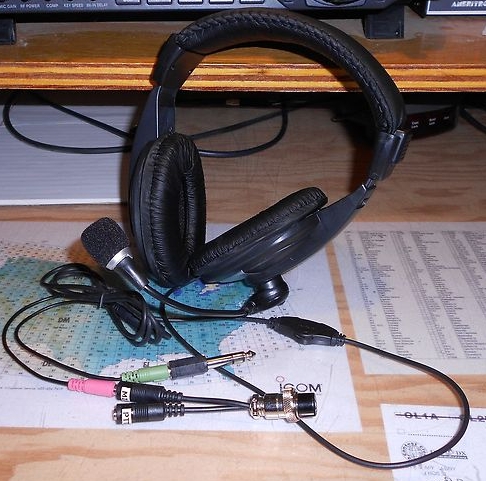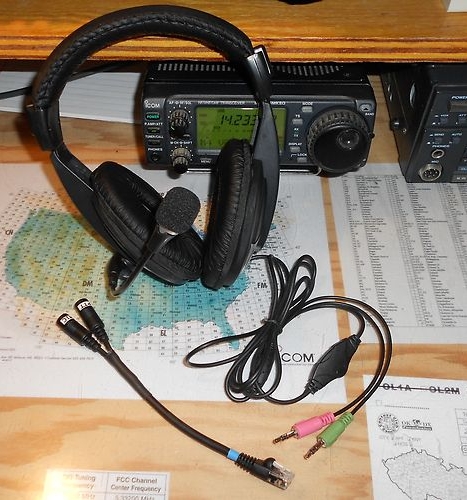 Compact and lightweight for minimum fatigue, maximum comfort
Delivers punchy, good-sounding audio without costly outboard electronics!
Move about your shack hands-free while maintaining optimal voice-to-mic proximity!
Operate quietly, without disturbing the family!
Perfect for contesting and Field Day!
Complete, ready to plug in and run!
Icom radios IC - 706 (original, mkII, mkIIg), 703, 718, 725, 726, 728, 729, 735, 736, 737, 738, 745, 746, 746 PRO, 751, 751A, 756, 756 PRO (I, II, III), 761, 765, 775, 781, 820, 821, 970, 7000, 7100, 7200, 7300, 7410, 7600, 7700, 7800.
Kenwood radios TS - 140, 430, 440, 450, 480, 570, 660, 670, 680, 690, 850, 870, 930, 940, 950, 990, 2000. Older Kenwood radios like T-599, TS120/130/180/520/530/820/830 are supported but need the battery box option - add $15 or I can invoice you. Kenwood TS590 has problems when using bias supplied by the radio, please add $15 to your purchase for the battery box option . Elecraft K2 and K3 (bias is assumed on your pin 6, advise if otherwise) TEN-TEC Orion, Orion II, Argonaut, Jupiter, OMNI VI, OMNI VII, Paragon, Delta II, Corsair, Scout
Yaesu FT radios - 450, 817, 847, 857, 891, 897, 920, 991, 950, 2000, 2000D, 1000MP, 1000MP Mk V Field, FTDX5000 (NOT 101, 102, 736, 757, 840, 890, 900, 901, 902, 990, FT1000 or FT1000D - those require a battery box at additional $15 cost).Alinco DX70 and othersFLEX 3000, 5000 and others
The headset come with ONE MIC/PTT adapter, additional adapters for other radios are available at $25 each.
These are the adapters as they ship now, color may vary by available stock. Black cables have a red band on the MIC jack.
Headphones plug into your radio 'headphone' jack, not the adapter!